Don't Drink the Soap...
Adding this to my "Swear By" category.
One of my sisters recently gave me a bottle of lemongrass and mandarin. Exotic tea blend you're thinking? Nope. Thai cooking sauce? Nope. New vodka flavor? Nope.
It was a bottle of Bath & Body Works' Energizing Hand Soap in Lemongrass and Mandarin. I swear, if my fantasy dream of vacationing in Tahiti had a smell, this is what it would smell like. Just heavenly.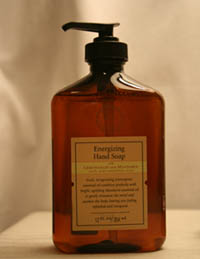 Not only does it leave a tingly feeling, it smells so good, you can almost taste it - citrusy, minty, gingery and peppery (ok, so I'm not the most versed person around).
Next time you're wondering what to get me for a gift, I'll gladly accept a bottle of this...or two.