Let's Chaat
Indian food is probably my second favorite ethnic cuisine after Persian. Since I've fallen off of the low-carb wagon, I've been seriously indulging in chaat samosas.... can you blame me?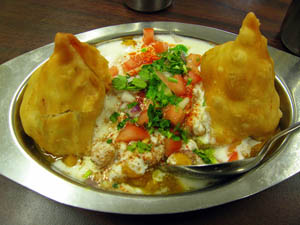 (image belongs to Seattle Bon Vivant)
Chaat samosa is a heavenly concoction of one or two veggie samosas, topped with yogurt, chutney, onions, cilantro, mint sauce and tomtato!
It's something about the crispy samosa and it's mushy filling and the crunchiness of the onions and the sweetness from the chutney, the heat of the curry and the cooling yogurt... bliss!
The farmers market down the street sells really good prepared samosas in their buffet bar so, technically, I could easily make this at home - but I also happen to live in an area with authentic Indian restaurants (where Indians actually eat there) on every corner... I'll leave it to the experts.