Chocolate Chip Cheesecake... 'nuff said.
Promised a coworker I'd bake him a batch of my mini-cheesecakes. I've grown tired of the fruit topped variety I've been making all summer, so I thought I'd try something new.
Hit the grocery store for supplies and inspiration and then I saw it... what better addition to my mini-cheesecakes than mini chocolate chips! Nestle's Tollhouse Mini Morsels, to be exact. Oh so cute!
So using my Superr Easy Cheesecake recipe (linked above), I substituted chocolate grahams for regular, and omitted the lemon zest and juice and added a 1/4 cup of mini chips. Furthermore, before adding the mini chips, I tossed them in a little bit of flour to prevent the chips from falling to the bottom when baking - a tip I picked up from the Barefoot Contessa, Ina Gartner (love, love her!).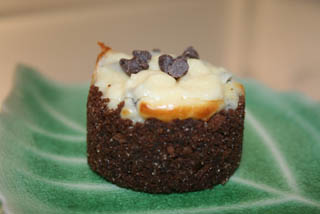 Of course, I may have royally ruined the recipe with the addition of the flour, but it looks good, non?