Reaping and "Pliage"ing
Yeah it sucks to be the youngest of so many sisters... a lifetime of hand-me-down sucks.
However - every now and then - it also pays off. Case in point, my Sister #5. Just in time for the fall season, she was scoping out the sales rack at Bloomies in Boston and came across this:
Longchamp's Le Pliage Large Tote: Lightweight nylon signature large tote. Leather double shoulder straps and flap with snap. Top zip closure. Folds up for travel. Interior pocket. 13"W x 13"H x 7 1/2"D; 10" drop from shoulder
So here''s the scenario:
My sister had long had a blue Pliage bag that I've been eyeing and almost stole from her the last time she visited to take for my trip to Paris this past spring...so one Saturday afternoon in September I received a call from her and it went something like this:
Me: Hello?
#5: Hey Stupid...
Me: WTF do you want?
#5: I'm at Bloomingdales and that bag of mine you like is on sale. What color do you want? Black or red?
Me: Black, it goes with everything
#5: Ok, whatever, bye.
[Can you sense the sisterly love?]
A week later I receive this in the mail...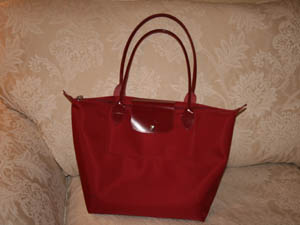 ...of course it isn't black, but it still goes with everything.