Mmm, I love pears. I don't know if pears are in season right now, but recently it keeps popping up in my life...
•Was invited to dinner at my sister's for my bro-in-law's birthday. Whacked my brain trying to think of a present or something appropriate to bring to dinner, running late and in a panic, I picked up the first thing I saw in the cooler at the liquor store, a case of beer...only later found out I did not buy beer, but a variety pack of Woodchuck Draft Cider. One of the flavors was Pear. It kicks ass. Woodchuck Draft Pear Cider is now a staple in my fridge.
•Made a trip to Costco for bottled water and toilet paper, ended up with a 5lb bag of D'anjou pears instead
•Flipped thru my March 2007 issue of Food & Wine and came across an ad for the new Grey Goose Le Poire (Pear + Vodka = Mighty Fine Martini!!!)
Grey Goose Peartini
2 parts Grey Goose La Poire Flavored Vodka
1/4 part Disaronno Originale
1/4 part simple syrup
1/2 part lemon juice
Pear slice
Add all ingredients to a cocktail shaker filled with ice and shake vigorously. Strain into a chilled martini glass and present with a pear slice.
•Cleaning out the liquor cabinet, I noticed a forgotten bottle of Poire William, pear brandy . Got it over a year ago, it's a lovely bottle with an actual pear inside.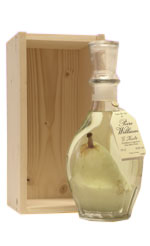 It smells heavenly, only thing is it doesn't really mix well in a mixed drink and we could never think of anything else to do with it. Well quelle surprise, this morning on Food Network's Barefoot Contessa, Ina prepared a Pear Clafouti and one of the main ingredients is pear brandy – Poire William to be exact!