Gung Hay Fat Choy!
Happy new year. 2007? Ha! That was sooo 2700 years ago. It's year 4705 - the Year of the Pig.
Technically, Chinese New Year doesn't begin until February 18, 2007, but as soon as I saw pictures of this stamp, I couldn't wait to post it.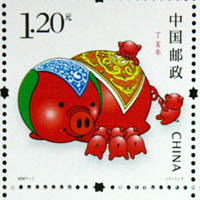 If you were born in 1923, 1935, 1947, 1959, 1971, 1983 or 1995 - you were born under the zodiac sign of the pig. Like the pig, you are highly regarded for your chivalry and pureness of heart, and you often make friends for life.
Famous pigs: Porky (WB cartoon character), Wilbur (protagonist, Charlotte's Web), Miss Piggy (Muppet character) and Babe (protagonist, 1995 movie).
Famous people born in the Year Of The Pig include Lucille Ball, Humphrey Bogart, Thomas Jefferson, Ernest Hemingway, Alfred Hitchcock, Mahalia Jackson, David Letterman, and Arnold Schwarzenegger.
fyi - Annus Sus is the Latin translation for Year of the Pig