Nothing says "I heart you" like cupcakes. And this past Sunday I said "I heart you" to my dear friend and former co-worker Lee and his beautiful (hate her), sweet-as-a-peach fiancee, Kathy with two dozen yummy cupcakes!
I volunteered to bring a dessert dish for a farewell party for the happy couple before their move to Greenville, SC. As usual, I waited till the very last minute before I could think of what to bring and I decided on my trusty old, Tiramisu Toffee Torte recipe!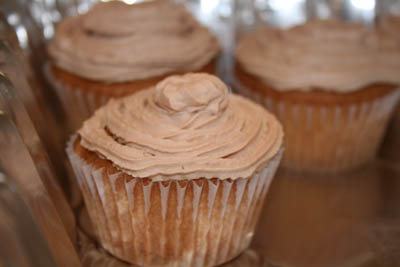 Tiramisu Toffee Torte**
from the Pillsbury: Best of the Bake-off Cookbook
(**this recipe is for a torte, but I adjusted accordingly to turn this into cupcakes). I've received tons of compliments with this recipe.
cake:
1 (1lb. 2.5oz) pkg. Pudding-included white cake mix
1 cup strong coffee, room temperature
4 egg whites
4 (1.4 oz) toffee candy bars, very finely chopped (for convenience I use "Heath Bits" found in the chocolate chip section)
frosting:
2/3 cup sugar
1/3 cup chocolate syrup
1/2 (8oz) pkg. (4oz) cream cheese, softened
2 cups whipping cream
2 teaspoons vanilla
1 cup strong coffee, room temperature (I use 1/2 cup coffee, 1/2 cup Kahlua instead to give it that oomph!)
Heat oven to 350°F. Grease and flour two 9-8 inch round cake pans. In large bowl, combine cake mix, 1 cup coffee and egg whites at low speed until moistened; beat 2 minutes at high speed. Fold in chopped toffee bars. Spread batter in greased and floured pans.
Bake at 350°F. Bake 9-inch pans 20 to 30 minutes, bake 8-inch pans 30-40 minutes, or until toothpick inserted in center comes out clean. Cool 10 minutes; remove from pans. Cool completely.
In medium bowl, combine sugar, chocolate syrup (use less sugar if desired, because it can become too sweet w/ the addition of the chocolate syrup) and cream cheese; beat until smooth. Add whipping cream and vanilla; beat until light and fluffy (peaks will form). Refrigerate until ready to serve.
To assemble cake, slice each layer in half horizontally to make 4 layers. Drizzle each cut side with 1/4 cup coffee (or coffee/Kahlua mix). Place 1 layer coffee side up on serving plate; spread with 3/4 cup frosting. Repeat with second and third cake layers. Top with remaining cake layer. Frost sides and top of cake with remaining frosting. Garnish with chopped toffee. Store in refrigerator.
Buono Appetito.