Technically, I should change this entry title to "When in Paris... Do as the Parisians Do". Yup, I'm off to Gay Paree in a month! Not wanting to stand out as a tourist (Oh quelle horreur!), I've diligently studied my spring fashion mags and learned that the IN things for Paris this Spring are ballerines - aka ballet flats and skinny jeans (Oh quelle horreur!).
Where should I start on how WRONG this is on so many levels. Flats and skinny jeans on a chic who's five foot two (and a half!)... wrong, just wrong.
Atrocious thoughts aside and being the superficial, narcissistic, shallow person that I am - I've finally succumbed and purchased the cutest black patent ballet flats at DSW, on sale for $28 bucks.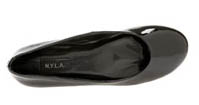 Tres mignon n'est pas?
They still make me look short, but surpisingly, they don't make my feet look fat. In fact, it even shows a little bit of toe cleavage!