Hugs & Kisses... Make it Last!
Wow. Has it already been a year? I ran across this pic while tackling the #2 item on my new year's resolution list - BE MORE ORGANIZED (with #1 resolution being - STOP CURSING!).
This was the arrangement my Sweety sent me on Valentines last year: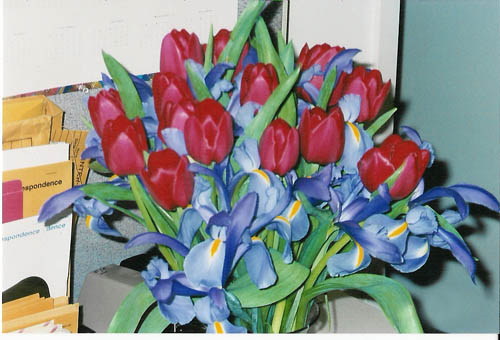 It was called a "Hugs and Kisses" bouquet. Get it? (tulips = hugs, irises = kisses).
Since Valentines is just a couple of weeks away, here are some tips from my Februay issue of Martha Stewart on how to keep your arrangments looking vibrant and fresh:
Trim the Stems.
Before displaying cut flowers, snip the stems at a forty-five-degree angle under water. (If the blooms come in a water-filled vase, you can skip this step.) This allows the stems to draw up more water than if they were resting flat against the vase. Use sharp pruners. Never snap stems by hand.
Remove leaves.
Strip blooms of any foliage that would fall below the waterline in the vase. Leaves decay when they're submerged, encouraging algae and bacteria that can cause th flowers to deteriorate more quickly.
Make them last.
Place flowers in a clean vase filled with lukewarm water. Add cut-flower food, available from florists, to the water. This will nourish the stems and help them absorb water. Check frequently to make sure the ends of the stems are covered in water. Change the water and recut the stems every five days or when the water begins to look cloudy. One way you can prolong the life of an arrangment is by setting it in the refrigerator at night - but do this only if the fridge is free of fruit. Ethylene gas, emitted from fruit, will cause flowers to decline faster.