January '08 ... What's New
Four new things to add to my "Swear By" category...
1) LATEST TUNES:


The Trumpet Child by Over The Rhine ... been playing it non-stop since I got it. "Trouble" is my favorite track, but the entire album is excellent.

2) CURRENT READ: Northanger Abbey by Jane Austen. Catherine and Mr. Tilney have NOTHING on Elizabeth and Mr. Darcy, but to quote the heroine, Catherine, in Chapter 14, "...but it is a nice book, and why should not I call it so?" Wasn't aware this novel even existed until the Complete Jane Austen series started on PBS this month.

3) CURRENT SCENT: Vera Wang Princess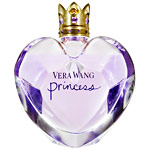 One of the three things a girl should never buy for herself (jewelry, chocolates, and perfume)... this was a favorite Christmas gift from my Sweety.
Here's the product description:
Created for the playful, unpredictable, independent woman who treats every day like an event and adventure. This is a woman who likes to make her own magic, this sheer, flirty blend of water lily, lady apple, mandarin meringue, and golden apricot skin are melded with sheer floral notes, accented with dark chocolate, and finished with a pink frosting accord, amber, warm woods, musk, and vanilla - a whimsical treat.
Notes: Water Lily, Lady Apple, Mandarin Meringue, Golden Apricot Skin, Ripe Pink Guava, Tahitian Flower, Wild Tuberose, Dark Chocolate, Pink Frosting Accord, Precious Amber, Forbidden Woods, Royal Musk Captive, Chiffon Vanilla.
Style: Sheer. Tropical. Delectable.

4: BETTER THAN CRACK: Jasmine Tea Balls from Caribou Coffee Goodbye Diet Coke! Finally, an addiction that's actually good for me.