Get Thee to a Creperie
My fondest memories of of Paris are not of my Bateaux Mouches cruise down La Seine, my visits to Le Louvre, Le Musee d'Orsay or ascending to the top of La Tour Eiffelle. Nope, my fondest Paris memories are of our many visits to creperies, which literally could be found on every street corner.
For me, nothing says Paris like une crepe au chocolat avec banane, tres yummy!
Here is one of my favorite pictures from the 400+ I took on the trip - it speaks for itself.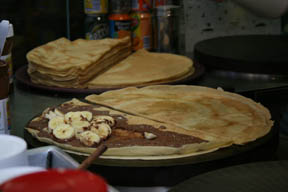 They're fairly easy to make. Its basically Nutella and sliced banannas slathered on a thin pancake and folded into fourths, garnished with a generous topping of powdered sugar and served in waxed paper - the ultimate street food.
Preparing the actual crepe pancakes however, require a little bit of work:
BASIC CREPE RECIPE
4 servings
INGREDIENTS:
1 cup all-purpose flour
2 eggs
1/2 cup milk 1/2 cup water
1/4 teaspoon salt
2 tablespoons butter, melted
DIRECTIONS:
1. In a large mixing bowl, whisk together the flour and the eggs. Gradually add in the milk and water, stirring to combine. Add the salt and butter; beat until smooth.
2. Heat a lightly oiled griddle or frying pan over medium high heat. Pour or scoop the batter onto the griddle, using approximately 1/4 cup for each crepe. Tilt the pan with a circular motion so that the batter coats the surface evenly.
3. Cook the crepe for about 2 minutes, until the bottom is light brown. Loosen with a spatula, turn and cook the other side. Serve hot.
Bon Apetit!